Jennifer is hosting this week's
Carnival of Homeschooling
at
HomeGrownMommy.com
.
She starts with:
----------
There is such a wealth of information in Carnival of Homeschooling for this week, that it is really hard to know where to start! I'll just have all you contributors know that it took me 3 times longer than I thought to put this carnival together because every time I got done reading one of your articles, I just had to keep reading more and more articles from your blogs!
I genuinely hope everyone enjoys this week's edition and that you are blessed with some encouragement and some new ideas from your time. Enjoy!
----------
Pop over to
the carnival
and read all the entries which distracted her.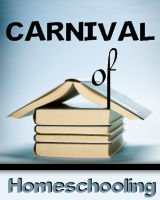 ----------
Technorati tags
:
homeschooling
,
homeschool
,
home
school
,
home
education
,
parenting
,
children
,
education
,
Carnival of Homeschooling