As the organizer for the Carnival of Homeschooling I try to reminde our readers every week to send in a post to appear in a carnival on another blog.
This week I'm asking for myself. Next week Janine and I will be hosting the carnival, so please consider sending in some post about homeschooling. Thank you!
Go here for
the instructions on sending in a submission.
As always, entries to the Carnival of Homeschooling are due Monday evening at 6:00 PM Pacific Standard Time.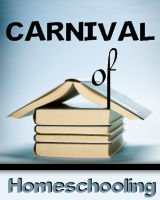 ----------
Technorati tags
:
homeschooling
,
homeschool
,
home
school
,
home
education
,
parenting
,
children
,
education
,
Carnival of Homeschooling