You have just about ten hours to send in your entry for this week's Carnival of Homeschooling, so act now, don't hesitate, submit your post before you forget or get distracted.
MrsMamaHen
will be hosting the carnival tomorrow.
Go here for
the instructions on sending in a submission.
As always, entries to the Carnival of Homeschooling are due Monday evening at 6:00 PM Pacific Standard Time.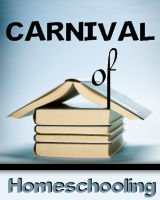 ----------
Technorati tags
:
homeschooling
,
homeschool
,
home
school
,
home
education
,
parenting
,
children
,
education
,
Carnival of Homeschooling