Janine and I will be hosting the 210th edition of the Carnival of Homeschooling at our blog
Why Homeschool
. It is a bit sobering to ponder about how we took a leap into the dark when starting up the carnival four years ago.

Start off 2010 right by encouraging your readers to send in an entry to the Carnival of Homeschooling. You can even use the carnival icons by adding the HTML
from here
.
Then please send in your own post about homeschooling.
Go here for
the instructions on sending in a submission.
As always, entries to the Carnival of Homeschooling are due Monday evening at 6:00 PM Pacific Standard Time.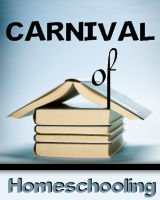 ----------
Technorati tags
:
homeschooling
,
homeschool
,
home
school
,
home
education
,
parenting
,
children
,
education
,
Carnival of Homeschooling