Mission statement: On this blog we explore why homeschooling can be a better option for children and families than a traditional classroom setting. We'll also explore homeschooling issues in general, educational thoughts, family issues, and some other random stuff.
Tuesday, December 29, 2009
The Carnival of Homeschooling is up - The Winter in Idaho Edition
Renae is hosting this week's
Carnival of Homeschooling
at her blog
Life Nuturing Education
.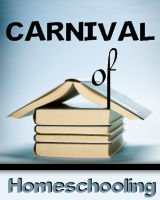 ----------
Technorati tags
:
homeschooling
,
homeschool
,
home
school
,
home
education
,
parenting
,
children
,
education
,
Carnival of Homeschooling