Three years ago my wife and I kicked off the first
Carnival of Homeschooling
. Next week it will be our privilege to host the third anniversary edition.
We are putting out a call for entries. Please consider sending in a post about homeschooling.

As always, entries to the Carnival of Homeschooling are due Monday evening at 6:00 PM Pacific Standard Time.
Here are
the instructions for sending in a submission.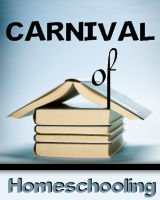 ----------
Technorati tags
:
homeschooling
,
homeschool
,
home
school
,
home
education
,
parenting
,
children
,
education
,
Carnival of Homeschooling