This is the last chance this year you have of participating in a Carnival of Homeschooling.
The last carnival of the year will be held at
Practical Homeschooling
.
As always, entries to the Carnival of Homeschooling are due Monday evening at 6:00 PM Pacific Standard Time.
Here are
the instructions for sending in a submission.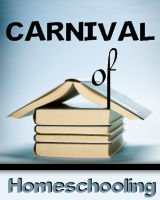 ----------
Technorati tags
:
homeschooling
,
homeschool
,
home
school
,
home
education
,
parenting
,
children
,
education
,
Carnival of Homeschooling