Almost eight and a half years ago my wife and I kicked off the
Carnival of Homeschooling
. We hosted the
first edition
in January of 2006. With over fifty hosts helping out the carnival has been published every week since then. There have been a few times of craziness and the carnival came out a bit late. I'm pretty sure that it has never skipped a week.

At the start the carnival averaged around 40 to 45 entries each week. We even had a few weeks of over 60 submissions. I remember being up one night till two in the morning organizing 65 plus entries. After the first year the average rate settled down into the 30 to 45 range. This was fairly steady for four or five years. Then last year we started seeing the submission rate drop. We started getting 20 entries a week, then 15 entries a week and then early this year the entries fell again into the 10 or so a week range.
I have felt good about being the organizer for the carnival. I often think of this quote:
"
You say the little efforts that I make will do no good; that they never will prevail to tip the hovering scale where justice hangs in the balance. I don't think I ever thought they would. But I am prejudiced beyond debate in favor of my right to choose which side shall feel the stubborn ounces of my weight
."
- Bonaro Overstreet
I like to think my ounce has helped to contribute to the homeschooling movement.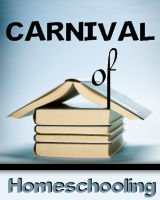 For the last month we've been averaging more like 3 to 6 entries each week.
Now I think it may be time to let the Carnival of Homeschooling come to an end. Over the years I've put a lot of effort into asking people to submit posts. If I spend an hour I can often turn out one or two new bloggers who contribute, or reactive some bloggers who have stopped submitting. But we've been losing a lot of regulars over the last year.
If you have any thoughts you would like to share, please send me an email or leave a comment.