I just renewed my Photobucket account. I looked at the statistics for the three Carnival of Homeschooling images.
The small image is loaded about 400 times a day.

The medium size image is loading slightly more, around 440 times a day.
The large image is being loaded around 1,400 times a day.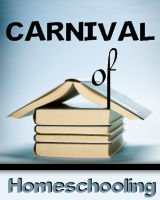 It is interesting that last year the numbers were 1000, 400, and 900, respectively. So the total per day was about the same, but we had a dramatic shift to the large image.