Just over two years ago our readers
selected three images
to represent the Carnival of Homeschooling. I set things up so people who wanted to help support the carnival could copy
some HTML code
to their blog or web site. The image would appear, along with a link back to the carnival.
I loaded the images up on
PhotoBucket
back then and didn't think too much more about it.
Today I went to PhotoBucket and happened to check the statistics.

The small image right now averages about 1000 downloads a day.
The medium image is a touch under 400 downloads a day.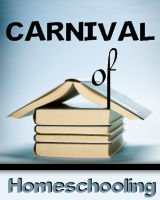 And the large image is in the 900 downloads a day range.
I'm not sure why, but downloads were about 30% higher back in the December to February time frame.
----------
Technorati tags
:
homeschooling
,
homeschool
,
home
school
,
home
education
,
parenting
,
children
,
education
,
Carnival of Homeschooling