Melanie is hosting this week's
Carnival of Homeschooling
at
Raising Real Men
. She starts with:
----------
Welcome to Raising Real Men! We've done 14 radio interviews in the past week from eastern North Carolina to Los Angeles, so I know there are many people visiting here who don't know us yet. I'd like to take a moment to explain a few things. The Carnival of Homeschooling is a weekly event that moves around the blogosphere. Bloggers contribute posts and the host blogger gathers all the links together for your reading pleasure. We don't choose the entries: some we love, some we don't!
And a last word before we get started. Homeschooling is not the only way to raise boys, but it offers some serious advantages for parents who want to train their sons for manhood in a way that the common culture simply doesn't any longer. We devote a chapter in Raising Real Men to the very real differences in the way boys approach education, compared to their sisters. How we respond, as teachers and parents, will make a difference in how they respond as students.
We've been thinking a lot about what we love lately: A year ago our precious
Katie
was born the day before Valentine's Day. How appropriate since we'd spend the next year thinking about her heart. At two weeks, we discovered she was in SVT (dangerously fast heart rhythm) at 278 beats per minute. They had to stop her heart six times that night. We were hoping she'd be one of the 25% who grow out of the condition by a year old, but we just found out her heart is still in danger. Not only that, but my best friend, husband and co-author,
Hal has stage four Hodgkins lymphoma
. We are thinking a lot about what we love – Christ, our family, and so much more!
So, we dedicate this Carnival, in the week before Valentine's Day to Things Homeschoolers Love.
----------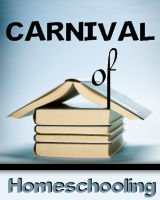 ----------
Technorati tags
:
homeschooling
,
homeschool
,
home
school
,
home
education
,
parenting
,
children
,
education
,
Carnival of Homeschooling