This week's
Carnival of Homeschooling
is up at
SmallWorld
. This is the "Think Spring Edition!" The carnival starts with:
----------
Welcome to the
Carnival of Homeschooling
! I particularly like that this carnival falls on the Queen of all Carnival days: Fat Tuesday. While we won't be doing any Mardi Gras parading or masquerading around our house today, I just might be brave and tackle making a
King Cake
this year.But I think what is on everyone's minds more than Mardi Gras, the Olympics, and possibly even more than my birthday (tomorrow) is, well, Winter. Seems to me that here in the States, at least, we are all marveling at the record frigid temperatures and outrageous amounts of snow. Or even that some states have snow. I've seen more gray skies in the past month than I hope to see ever again. And so instead of festive beads or figure skating or birthday cake, I'm giving this carnival a touch of spring. It really is coming.
----------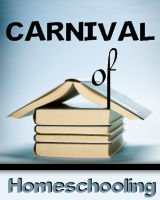 ----------
Technorati tags
:
homeschooling
,
homeschool
,
home
school
,
home
education
,
parenting
,
children
,
education
,
Carnival of Homeschooling