Mama Squirrel is hosting this week's
Carnival of Homeschooling
at
Dewey's Treehouse
.
She starts the carnival with:
"
Welcome to the 194th Carnival of Homeschooling. Due to the number of critter-related posts we received this week, this week's Carnival is dedicated to the wonderful world of animals
."
Mosey on over and see what homeschooling bloggers are writing about this week.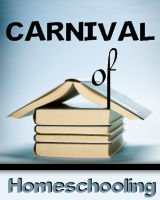 ----------
Technorati tags
:
homeschooling
,
homeschool
,
home
school
,
home
education
,
parenting
,
children
,
education
,
Carnival of Homeschooling