This week's
Carnival of Homeschooling
is up at
The Common Room
.
One of the things I am grateful for is that we have so many people willing to help with the Carnival of Homeschooling. Dana of Principled Discovery was going to host this week, but a
recent trip to ER
precluded that option. The Headmistress stepped in at the last minute volunteering to host! She starts the carnival with:
----------
I haven't submitted a post to the weekly homeschooling carnival in forever- just because I keep forgetting. So when Henry asked me to pitch in at the last moment because the scheduled bloghost couldn't do it, I quickly agreed. Then, of course, came the part I always struggle with, finding a theme- one nobody else has used, one that is clever, and witty, and preferably has some artistic tie-in so you can choose cool graphics to illustrate your post.And then I looked at the time and decided that this is just going to be the All About Me Blog Carnival. You can probably figure out why. =)
----------
So pop over and check out this week's
Carnival of Homeschooling
.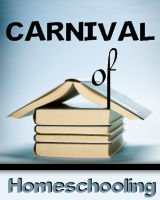 ----------
Technorati tags
:
homeschooling
,
homeschool
,
home
school
,
home
education
,
parenting
,
children
,
education
,
Carnival of Homeschooling