Mama Squirrel is hosting this week's
Carnival of Homeschooling
at
Dewey's Treehouse
. She starts with:
----------
"We were happily learning at home, things were going wonderfully, and I had absolutely no doubt that we were doing just what we were meant to be doing."Then like many other moms, I joined a local support group so that I could meet up with other like minded moms and learn from their experiences. Learn I did! There were so many great ideas and books that I had never heard of, different learning philosophies and schedules and children that were way ahead of mine. I wanted to suck up all of their knowledge and I wanted to know how I could be just like all of them. That's right...it was like having an identity crisis."--
Whose Homeschool Life Are You Leading?
, by BChsMamaof3 at the
Huber Hof Academy
.
----------
Are you struggling with your identity as a homeschooler? Then check out this
week's carnival
. (If you are happy with your identity, still drop by and check out the carnival.)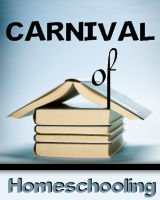 ----------
Technorati tags
:
homeschooling
,
homeschool
,
home
school
,
home
education
,
parenting
,
children
,
education
,
Carnival of Homeschooling