This week's
Carnival of Homeschooling
is at
Walking Therein
.
Jacque starts the carnival with:
----------
This week is the end of the 2007-2008 school year for many families across the country. June is a few days off and will be the start of summer vacation.
We have not had a 'summer vacation' in six years. Oh, we have plenty of fun and plenty of vacationing at home during the summer, but we don't officially take time off from school. School is life, and those Living Learning Moments include reading, textbooks, extra-curricular activities, and anything you can think of.
So, the official school year is over, but, is it? Is it the end of the homeschool year or not.
----------
Enjoy.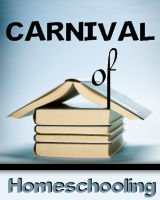 ----------
Technorati tags
:
homeschooling
,
homeschool
,
home
school
,
home
education
,
parenting
,
children
,
education
,
Carnival of Homeschooling